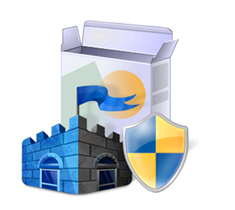 I have been hearing a lot of good things about Microsoft's new security suite for a while now and have been waiting to get my hands on it for some time.
First thoughts were that I would have to keep an open mind and not let Windows One Care cloud my judgment; I can honestly say that I have.
Installing was quick and easy 6 simple next boxes and it was done, there was no way of getting lost or installing it in advanced mode, there isn't an advanced mode just a simple install.
I have installed it on Windows 7, Vista and XP and all went through without a hitch. I used the Vista installer for Windows 7 it doesn't say that it supports Windows 7 but I haven't found a problem with it as yet, but will let you know if I do.
The installation is below: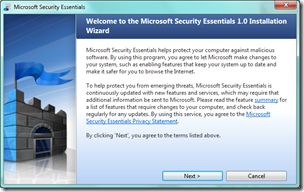 Just an information screen really, the only thing you can do is click next.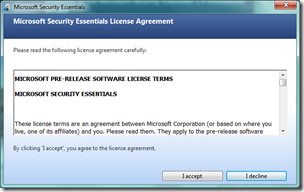 Standard software agreements nothing to report about, click accept if you want to install.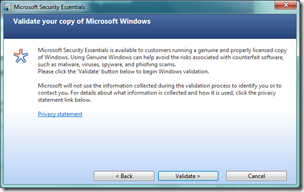 I thought the days of validating your copy of windows was long gone but sadly I was wrong, and this on an installation of Windows 7.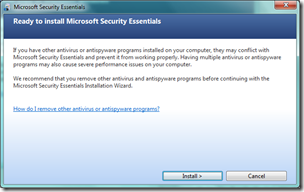 The last warning before you start the install, warning you to remove any other security packages on your machine as they can cause issues, my advice is follow this warning.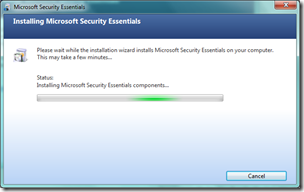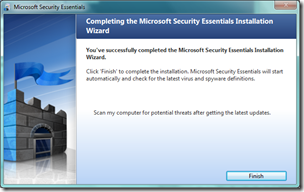 The installation doesn't take long before it is finished and you are presented with the finish button.
Like I have said before it is a very quick install, once you are displayed with the main console you can see that it is no suite for the advanced user, but I think that is a good thing as this security suite is not aimed at the advanced user if for the average domestic user who wants few problems to deal with and this package dully delivers.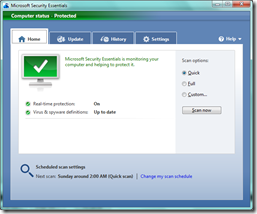 My first thoughts was to find out how this package is recognized within Windows Home Server, upon opening the console there was no reported problems with the machine. Success Microsoft have definitely got it right for once.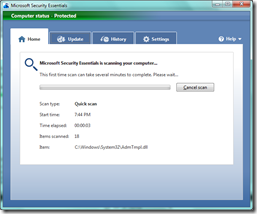 The software will then do a quick scan on your machine which takes around 5 minutes and then that's it.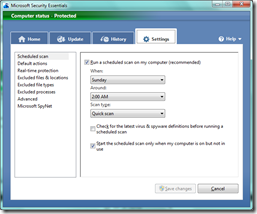 The settings tab is limited at best, but as said before this is great for the average user the way I see it the less settings there are the less there is to go wrong, you can make some changes, things like when a Full Computer Scan can take place and excluding certain file types and processes but this section is limited.
Conclusion
Overall I think Microsoft have got this one right it is a free package aimed at those that don't already have any protection at all, even for those that have may want to make the change to a simpler easier package to administer if that is what you are looking for then this is definitely it.
The one thing I would like to see from this security suite is a Windows Home Server release giving people the chance to have a free alternative package for their home server whether this happens only time will tell.
Share this WHS Article with Others: