From the depths of the world wide web we have found a technical paper from Hewlett Packard on how to manage a digital lifestyle in a mixed OS environment. The 12 page PDF document looks at how the HP MediaSmart Server can help you manage and share your digital media with both a Windows PC and a Apple Mac.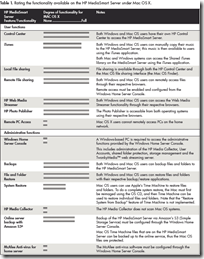 Of particular interest is the table rating the functionality available on the HP MediaSmart Server under Mac OS X.
You can download the PDF from here.
Share this WHS Article with Others: