FTP Manager is an add-in that allows you to install and configure the IIS FTP component for Windows Home Server. It includes the following features:
Install (or uninstall) the FTP component
Create/Remove FTP Sites
Start/Stop FTP Sites
Create/Remove FTP Virtual Directories
List FTP Sites
List FTP Virtual Directories
Adds firewall exclusion for the FTP component (inetinfo.exe)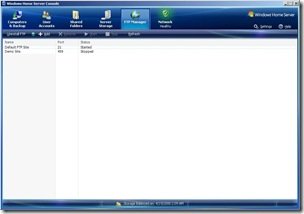 Version 0.0.1.2 also includes the following changes:
Fixes giant security bug that allowed anonymous users.
Switched to a faster method for Starting and Stopping sites.
Warning: FTP Manager will require your Windows Home Server installation media to install the FTP component.
More details are available from here.
Share this WHS Article with Others: