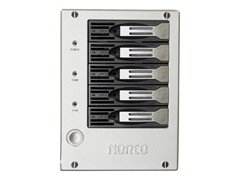 Norco Technologies have been in touch about their new DS-520 Home Server NAS Appliance which is a great looking piece of kit. Storage capacity is king. Five hot swappable SATA II drive bays, three eSATA connectors and four USB 2.0 ports provide eight individual SATA II channels, allowing for up to 8TB of storage space (using 1TB drives). Also added is a legacy IDE port for those of you with a IDE hard drive or optical unit.
One DDR SODIMM Socket provides up to 1GB of RAM and network connectivity is handled by two built-in Ethernet ports.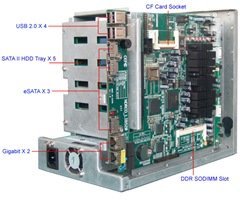 Available as two separate models the DS-520F provides Dual 10/100 Ethernet and a 600MHz Processor whilst the DS-520G has Dual Gigabit Ethernet and a 1GHz Processor. In both instances the processor is an Intel ULV Celeron M.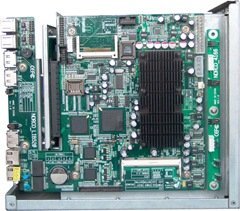 Although Microsoft's minimum spec for Windows Home Server is a 1 GHz Pentium 3 (or equivalent), in reality this does not provide enough power when Home Server is doing two things at once like streaming media and copying files. In these circumstances I have found at least a 1.6GHz processor is needed and dual core is handy also.
The package comes complete with the DS-520 home server appliance, Five SATA II drive trays, 3 adapter cables, screws for mounting the hard drives and a Utilities CD-ROM with User Manual. The Windows Home Server software and memory module are NOT included. The MSRP is $649.
Share this WHS Article with Others: