The Windows Home Server Connect site is allowing feedback and suggestions to be posted again.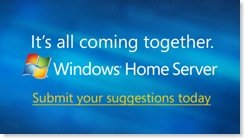 The Windows Home Server team wants your suggestions and ideas of how to make WHS better.  They rely on the community to vote and rate suggestions to help the team prioritize what is important. 
Before posting take the time to search for existing suggestions prior to submitting a new idea, and remember Version 2 can be a better Home Server with your help.
Remember the Windows Home Server team reviews your suggestions on a periodic basis to understand the top ideas from the community.  Due to the volume of feedback, the team cannot commit to respond to each suggestion.
Share this WHS Article with Others: